News
Keep up to date with what's going on at Eastbourne Quay.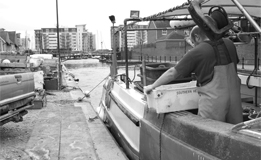 Community Economic Development Plan
May 2017
Download the full report here.
May Fishing
April 9th 2013
May will see the start of the cuttlefish season and rod caught bass. The first whiting shoals also come in-shore, again, buy local and buy best.
AIS Systems on some local boats
April 3rd 2013
Email us for more information...
April Fishing
March 28th 2013
April is the start of the Dover sole season so please make sure you only buy local soles from your fishmonger or restaurant, simply because it will be in peak condition!
Funding for Fisherman's Quay
March 25th 2013
We are looking to access the Coastal Communities Fund and the European Fisheries Grant funding, as well as investing our own money into the proposed new Fishermen's Quay site.

The Future of Fisherman's Quay
March 21st 2013
We have set up a Community Interest Company to deal with the acquisition and future running of the Fishermans Quay.